If you arrived at this page because you Googled 'what exactly is a texture modified diet?', you're not alone.
Texture modified diets can be difficult to understand. If a friend or family member has been instructed to eat texture modified food and fluids, you're probably wondering what a texture modified diet is and what you can do to help.
That's exactly why we've written this article. We'll explain concepts like the IDDSI framework, why texture modified diets are important, and how you can prepare a good texture modified diet.
Let's get into it.
What is a texture-modified diet?
A texture modified diet is when a person regularly consumes texture modified foods and fluids (TMFs), which are meals or drinks that have been prepared in a special way to create a certain texture or consistency. For example, a raw carrot is extremely crunchy and hard, whereas a steamed carrot is much softer, and pureed carrot is softer still.
Because TMFs can make swallowing easier and potentially reduce the risk of choking or aspirating (inhaling food and water in the lungs), texture modified diets are often used to help people with dysphagia eat and drink safely. While some people may benefit from eating food that is softer or smaller in size than normal, other people may require texture modification on the opposite end of the spectrum, such as drinks that have been artificially thickened.
Like many health-related concepts, understanding texture modified diets can be difficult, especially when health companies use different terms to describe texture modification products. A company selling drink thickeners that create 'moderately thick' drinks may not be the same as a different company's 'moderately thick' protein shakes, which is confusing for ordinary consumers.
The International Dysphagia Diet Standardisation Initiative (IDDSI) was created to provide an international standard for food and drink textures, and looking at the IDDSI framework is a useful way to view texture modified diets.
The IDDSI framework consists of eight different levels. Levels 0–4 encompass thin, slightly thick, mildly thick, moderately thick and extremely thick drinks. Levels 3–7 encompass liquidised, pureed, minced and moist, soft and bite-sized, and regular foods.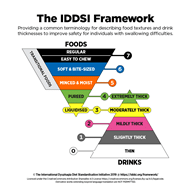 Today, all good thickening products and texture-modified foods have clear labelling that states what IDDSI level they are.  For example, Flavour Creations' instant THICK sachets come in Mildly Thick, Moderately Thick and Extremely Thick varieties, which translate to IDDSI Levels 2, 3 and 4 respectively. This helps people who need TMFs easily pick the product that's right for them.
Why is a texture-modified diet important?
Now we understand what a texture modified diet is, let's take a look at why so many people need them.
Dysphagia (the medical term for swallowing difficulties) affects an estimated 8% of the world's population, and can make swallowing food and drink hard or even dangerous [1]. People with dysphagia are at increased risk of aspirating food and drink, and choking from poorly swallowed or regurgitated food [2].
This can result in people with dysphagia not eating and drinking properly because it's difficult and unpleasant, or, alternatively, consuming regular food and fluids and consequently putting themselves at risk of aspiration or choking. Avoiding food and fluid consumption can lead to malnutrition and dehydration, while aspiration and choking can result in aspiration pneumonia and death [3, 4, 5].
Food and fluid modification is a strategy used by speech pathologists to help people with swallowing difficulties. By changing the texture and thickness of meals and drinks to match individual requirements, people with dysphagia can safely enjoy food and drink, avoiding complications and getting the nutrients they need [6].
Who is a texture-modified diet for?
A texture modified diet is for anyone – people of all ages and all health conditions can benefit from eating TMFs.
In many cases, texture modified diets are recommended by speech pathologists for people who have dysphagia. This commonly includes hospital patients, elderly people (aged 65+), people with neurological conditions, people with head and neck cancer, and infants [9, 10, 11].
Texture modified diets are especially helpful for residents of aged care homes, who often have co-existing health conditions that make their dysphagia even worse. Age-related muscle loss, neurological conditions like dementia, cancer, head/neck operations and stroke all contribute to an estimated 68% of aged care residents living with dysphagia [9]. By comparison, 13–38% of elderly people who live independently have dysphagia [9].
Not everyone who has dysphagia will need a modified diet, but if your loved one has severe or ongoing dysphagia, it's very possible that a speech pathologist will recommend some form of texture modification to make eating and drinking easier.
How to Create a Good Texture-Modified Diet
Despite the benefits texture modification can offer, many studies have actually shown that, in reality, people on texture modified diets may actually eat and drink less [7].
Why? Because texture modified food and fluids aren't always enjoyable to consume. Ask your loved one what they'd rather eat: a tenderly cooked steak smothered in a rich mushroom sauce with a side of chat potatoes and beans … or a plate of vegetable puree thickened with nutritionally complete powder.
Ninety-nine times out of a hundred, they'll choose the steak, even if eating it is more difficult, time-consuming and risky.
Consequently, one of the big challenges when caring for people with dysphagia is preparing meals that are safe, nutritious, and look and taste like real food.
If your loved one needs a texture modified diet because they have dysphagia or another medical condition, you should seek a referral to a qualified speech pathologist. A speech pathologist, in collaboration with a dietitian, can help develop a diet based around your loved one's individual needs and preferences, although most texture modified diets share a common focus on high-protein high-energy meals [12].
Once your loved one's speech pathologist and dietitian have put together a meal plan for a texture modified diet, it might be up to you to actually cook and prepare the meals. Many people find texture modified diets, especially pureed or liquified meals, to be undignified, so try implementing some of the following strategies to create texture modified food and fluid that's enjoyable to consume.
Use a moulding powder and moulds, like those from Flavour Creations' Shape It range, to form mince and puree into recognisable food shapes.
Use foods that naturally have the required IDDSI level. Many everyday foods are IDDSI Levels 4, 5 or 6, so try creating meals with them instead of simply pureeing or mincing foods like biscuits or steak. For example, eggs, baked beans, most fish and heavily cooked pasta are all acceptable for Levels 5 and 6, while ice-cream, jelly, soup and certain cheeses can be acceptable for Level 4.
Don't skimp on fancy cooking. Just because your loved one can't have certain textured foods doesn't mean they can't enjoy the taste of them. Prepare sauces and flavour combinations in the same way as you would a normal meal.
Use neutrally flavoured thickening powders to thicken fluids. You don't want your loved one's coffee, water and tea to all have an unpleasant artificial flavour.  Purchase flavourless thickening powders that can easily dissolve into drinks without affecting their taste.      
Get creative! Don't stick to the same meals, day-in, day-out.  Dust off your cookbook and start making mealtimes exciting again.      
Shape It is a moulding powder developed and produced by Flavour Creations, right here in Australia. It's designed to turn visually unappetising minces and purees into shapes that looks just like real food, giving people with dysphagia their dignity back at mealtimes.
To use Shape It in meals, add the recommended amount of powder to a blender with food and liquid (you can find the Shape It measurement guide here).  Once you've blended the food, liquid and Shape It powder, pour the resulting mixture into a Shape It mould, and refrigerate it until set.
You can then remove the shaped food from its mould and serve cold, or gently re-heat at a low temperature for food that's best served hot. Shape It is compatible with a variety of everyday foods, including meat, fish, vegan meals, fruits, vegetables and desserts – how you use it is only limited by your imagination.
Shape It is designed for everyone, so we made sure it's dairy-free, egg-free, gluten-free, GMO-free, lactose-free, nut-free, soy-free, vegan, halal and kosher. If your loved one has dysphagia, they'll be able to use Shape It to bring the spark back to their texture modified meals.     
Flavour Creations' range of ready-to-drink thickened fluids comes in our patented Dysphagia Cup, specifically designed for people with dysphagia. Not everyone on a texture modified diet has dysphagia, but, for those that do, our Ready-to-Drink Dysphagia Cup is a simple and easy way to increase fluid and nutrient intake.
The Dysphagia Cup is available in IDDSI Levels 2, 3 and 4 – mildly thick, moderately thick and extremely thick drinks. Getting sick of mixing thickening powder into every drink?  Replace that thickened flat white with a Ready-to-Drink White Coffee instead. 
It took us seven years and an investment of over $6 million to develop the Dysphagia Cup's ergonomic design, because we wanted it to be accessible for everyone, regardless of age or health.
We gave it a unique, angled shape to make drinking easier, an improved cup rim to minimise leakage from the mouth, and an easy-peel lid to make getting it open simpler than ever. The patented design means no neck extension while drinking (making swallowing much safer), and a light-weight frame makes lifting and drinking easy. It's also fully compliant with the accessibility criteria outlined by Arthritis Australia.         
Oh, and if your loved one struggles with holding regular cups?  The Dysphagia Cup Holder is designed to make drinking as easy as possible, empowering them with the ability to have a drink whenever and wherever they want.
Texture modified diets are a useful intervention for managing dysphagia, and, if foods are presented well, can be a great way to make eating and drinking fun again.
If you're caring for a family member or friend who consumes texture modified foods and fluids, start by familiarising yourself with the IDDSI levels they need. Once you understand the textures that are safe for them to eat, help them get creative with meal preparation and cooking.
Minced and pureed food doesn't have to be unpleasant or undignified to eat. Use the strategies outlined in this article to make meals of any texture tasty and appetising, and, in doing so, help your loved one get the hydration and  the nutrients they need.
Medical information on FlavourCreations.com.au is merely information and is not the advice of a medical practitioner. This information is general advice and was accurate at the time of publication. For more information about nutrition and your individual needs, see your GP, speech pathologist, or an Accredited Practising Dietitian.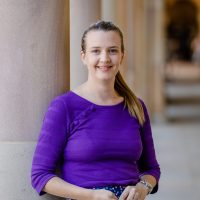 Dr Rebecca Nund
BSpPath (Hons), GCHEd, PhD CPSP
Dr Rebecca Nund does not work for or own shares in Flavour Creations, has received no funding or financial gain from reviewing this article, and has disclosed no relevant affiliations beyond their academic appointment.
[1] Cichero, J. A. Y., Lam, P., Steele, C. M., Hanson, B., Chen, J., Dantas, R. O., Duivesten, J., Kayashita, J., Lecko, C., Murray, J., Pillay, M., Riquelme, L. & Stanschus, S. (2016) Development of International Terminology and Definitions for Texture modified Foods and Thickened Fluids Used in Dysphagia Management: The IDDSI Framework. Dysphagia, 32(2), 293–314. DOI: 10.1007/s00455-016-9758-y
[2] Ballesteros-Pomar, M. D., Cherubini, A., Keller, H., Lam, P., Rolland, Y. & Simmons, S. F. (2020) Texture modified diet for improving the management of oropharyngeal dysphagia in nursing home residents: an expert review. The Journal of Nutrition, Health and Aging. 24(6), 576–581. DOI: 10.1007/s12603-020-1377-5
[3] Gallegos, C., Brito-de la Fuente, E., Clavé, P., Costa, A. & Assegehegn, G. (2017) Nutritional Aspects of Dysphagia Management. Advances in Food and Nutrition Research. 81, 271–318. DOI: 10.1016/bs.afnr.2016.11.008 
[4] Stanga, Z., Baldinger, S. H. & Clavé, P. (2011) Dehydration in Dysphagia. Medical Radiology. 601–610. DOI: 10.1007/174_2011_349 
[5] Suttrup, I., & Warnecke, T. (2015) Dysphagia in Parkinson's Disease. Dysphagia. 31(1), 24–32. DOI: 10.1007/s00455-015-9671-9 
[6] Burger, C., Kiesswetter, E., Alber, R., Pfannes, U., Arens-Azevedo, U. & Volkert, D. (2019) Texture modified diet in German nursing homes: availability, best practices and association with nursing home characteristics. BMC Geriatrics. 19(1). DOI: 10.1186/s12877-019-1286-9
[7] Painter, V., Le Couteur, D. & Waite, L. (2017) Texture modified food and fluids in dementia and residential aged care facilities. Clinical Interventions in Aging. 12, 1193–1203. DOI: 10.2147/cia.s140581
[8] O'Keeffe, S. T. (2018) Use of modified diets to prevent aspiration in oropharyngeal dysphagia: is current practice justified? BMC Geriatrics. 18(1). DOI: 10.1186/s12877-018-0839-7
[9] Crary, M., Sura, L., Madhavan, A. & Carnaby-Mann, G. (2012) Dysphagia in the elderly: management and nutritional considerations. Clinical Interventions in Aging. 287–297. DOI: 10.2147/cia.s23404 
[10] Dodrill, P. & Gosa, M. M. (2015). Pediatric Dysphagia: Physiology, Assessment, and Management. Annals of Nutrition and Metabolism. 66(5), 24–31. DOI: 10.1159/000381372 
[11] Mayer Silva da Cunha, K., de Campos Moreira, T., Taminini de Almeida, S., Tannhauser Barros, H. M. & Ferigolo, M. (2019) Symptoms Suggestive of Dysphagia and the Quality of Life in Cocaine and/or Crack Users. Dysphagia. DOI: 10.1007/s00455-019-10013-0 
[12] Reyes-Torres, C. A., Castillo-Martínez, L., Reyes-Guerrero, R., Ramos-Vázquez, A. G., Zavala-Solares, M., Cassis-Nosthas, L. & Serralde-Zúñiga, A. E. (2019) Design and implementation of modified-texture diet in older adults with oropharyngeal dysphagia: a randomized controlled trial. European Journal of Clinical Nutrition. DOI: 10.1038/s41430-019-0389-x