After seven years of research and development and an investment of over six million dollars, Flavour Creations launched the award-winning patented Dysphagia Cup. An innovation in accessible design, the Dysphagia Cup empowers individuals who have difficulty holding their own cup to drink independently.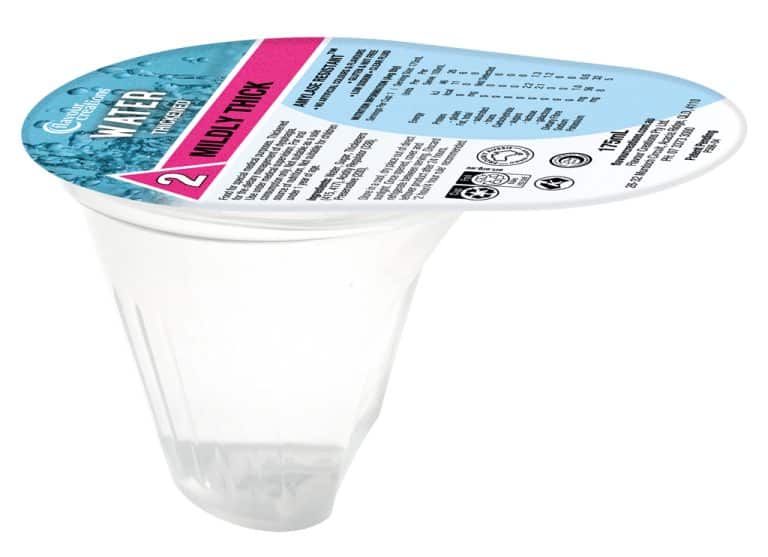 Each element of the Dysphagia Cup's design maximises user accessibility.  The Dysphagia Cup was designed in accordance with Arthritis Australia's Packaging Accessibility Guidelines, because we believe good nutrition should be accessible for everyone.   
The risk of coughing and fluid aspiration is always a concern for people with dysphagia, and tilting the head back when drinking increases the risk of both. That's why we innovated by making the front of the Dysphagia Cup 5 millimetres higher than the back, and streamlined all other aspects of the cup.  This unique sloped shape works to minimise neck extension when drinking, resulting in smoother and safer swallowing.
Dysphagia affects people of every age, background, and health status, but, given that up to 50% of Australia's aged care residents have swallowing disorders, we knew we needed to create a product that was accessible for people with reduced grip.  Because perspiration from refrigeration can make plastic slippery, we added textured ribbing to the sides of the Dysphagia Cup, making it non-slip and easy to hold.  We also created it from lightweight, recyclable plastic to minimise fatigue.
Finally, we added an ergonomic cup rim.  Poor fluid control inside the mouth is often a part of dysphagia, so our modified rim works to minimise fluid leakage and keep drinking dignified. 
When age and chronic health conditions compromise our strength and dexterity, opening cans, jars and food lids gets increasingly difficult.
Accessing nutrition independently should be as simple as possible, so we engineered the Dysphagia Cup with an easy-peel foil lid.  With a large 30-millimetre textured pull tab and a low-strength sealing agent, each Dysphagia Cup can be opened with almost no effort.
To facilitate safer serving, we also gave each lid a colour-coded design that clearly states the IDDSI Level of the contents.
When we created the Dysphagia Cup, we created it based on over two decades of practical experience in dysphagia nutrition.
Each design feature and accessibility decision we made helps Australians in aged care, hospitals, and the community get access to great nutrition easily and independently.
Life happens. 
Our health changes. 
Nothing we go through should ever stop us from getting access to the nutrition we need.
So, to the one million Australians living with dysphagia: this cup is for you.