A culture of disruptive innovation.
When our CEO Bernadette Eriksen founded Flavour Creations in 1997, the nutritional needs of people with dysphagia were neglected by the big nutrition companies.
Working out of her kitchen as a single mother – a new arrival to Queensland without an income or family support – Bernadette envisioned a way to bring high-quality nutrition to people with dysphagia, combining a food-first approach with a focus on flavour.
And she did it.
Despite significant barriers to entry and the vast resources of the industry incumbents, Flavour Creations has disrupted the global nutrition market, creating a diverse range of products for dysphagia and medical nutrition generally.
Now, we continue in Bernadette's tradition of disruptive innovation by developing products and systems that serve both people with dysphagia and the wider medical nutrition market.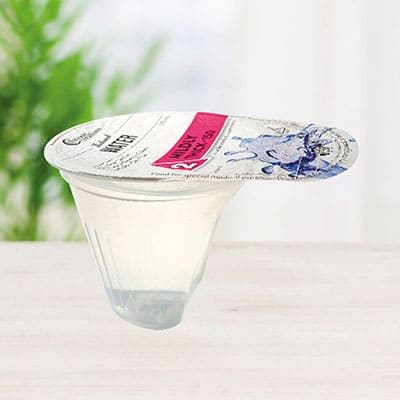 After seven years of research and development and an investment of over six million dollars, we launched the award-winning Dysphagia Cup in 2016.
An innovation in accessible design, the Dysphagia Cup empowers individuals who have difficulty holding their own cup to drink safely and independently.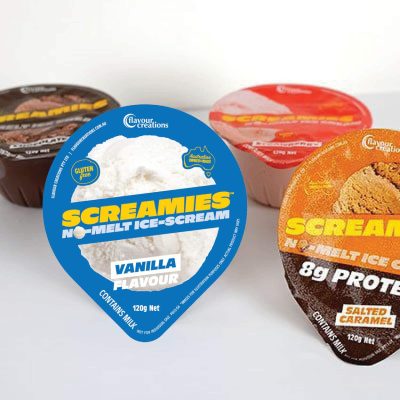 SCREAMIES: No-Melt Ice-Scream
Good food is for everyone.
That's our guiding philosophy, and that's why we developed no-melt ice cream.
When ice cream melts and becomes a thin fluid, making it unsuitable for many people with dysphagia. To help them enjoy ice cream again, we developed shelf-stable ice cream that never melts or loses its shape.
The best part? We did it all with natural ingredients and real Aussie cream, so SCREAMIES looks and tastes just like premium ice cream should.
Food Shaping and Moulding
Recognising the food on our plate – the shape, the colour, the texture, the flavour – is essential to the pleasure we take in eating.  So is sharing a meal with the people we care about.
We wanted to bring that holistic eating experience back for people who require texture-modified diets.  Utilising a unique combination of agar gel and other stabilising agents, we created Shape It, a neutral-flavoured powder that can be used to mould and shape pureed food into realistic or creative food shapes.
Unlike xanthan gum- or starch-based moulding powders, Shape It can be reheated with no loss of form, producing crisp, well-defined shapes that collapse into the recommended texture when eaten. 
Using Shape It, people on texture-modified diets can enjoy meals and snacks that look and taste the same as everyone else's.
Effective provision of the right nutritional products is essential for successful aged care operations.
That's why we developed our online Resident Inventory Management and Monitoring System (RIMMS), the only online inventory management system provided by a nutrition company.  RIMMS allows aged care procurement teams to quickly and accurately plan and lodge orders according to individual resident preferences and requirements, streamlining the ordering process.
RIMMS is also used for stock management and ordering automation, reducing waste, preventing stock shortages, and eliminating the need for complicated in-house systems.     
Aged care is complicated.  We've simplified it with RIMMS.
One Scoop Per Serve System
Every Flavour Creations product only requires a single scoop, sachet, or metric cup per serve. 
Because our product development is informed by both clinical experience and science, we know that real-world challenges can make complicated serving systems confusing, impractical, and even dangerous.    
Our single-serve system means all our products are delivered in exactly the same way regardless of their IDDSI Level, making them safer for aged care homes, hospitals, and people with cognitive difficulties.
One person.  One serve.  Enjoy the peace-of-mind that simplicity brings.      
We innovate because we care.
Disruptive innovation works because industry incumbents ignore or neglect people on the peripheries.
They focus on delivering solutions to the most profitable markets, and service everyone else with a one-size-fits-all approach – even when one size does not fit all.
That's why, at Flavour Creations, we choose to innovate.
Our products are designed for the people whose needs aren't being met, so we're committed to constantly developing new, creative solutions that help more Australians get the right nutrition.
Good food is for everyone, and we're making that happen, one innovation at a time.
Studies & Research Reports
Ross, A. I. V., Tyler, P., Borgognone, M. G. & Eriksen, B. M . (2019) Relationships between shear rheology and sensory attributes of hydrocolloid-thickened fluids designed to compensate for impairments in oral manipulation and swallowing. Journal of Food Engineering. 263, 123–131. DOI: 10.1016/j.jfoodeng.2019.05.040.