Do you know what dysphagia is?
Up to 22% of the general population is affected by dysphagia (difficulty swallowing), but many Australians have never even heard of persistent swallowing difficulties [1].
Although dysphagia can impact anyone, it's particularly common among hospital patients, people with certain neurological disorders and acquired brain injuries, people with head and neck cancer, and older people. If you know someone who matches any of those descriptions, this article is for you.
We'll explain exactly what dysphagia is, how to identify it, what its long-term effects are, and how it can be managed correctly. We've also included a free dysphagia screening tool to help you screen your loved ones for signs and symptoms.
To start learning about dysphagia, scroll on.
Dysphagia is the medical term for swallowing difficulties [2, 3]. People with dysphagia may have difficulty chewing and moving the food around their mouth or down their throat, and may cough, choke or even inhale food or fluid particles as a result [2].
Because dysphagia makes eating and drinking difficult, it has "been recognised by the [World Health Organization] as a medical disability associated with increased morbidity, mortality and costs of care" [3]. People with dysphagia may, as a result of their condition, not receive the energy, protein, vitamins and minerals their body needs, which can end up causing serious medical conditions like malnutrition [4].
On average, around one million Australians live with swallowing difficulties [5]. Dysphagia is particularly common in hospital patients and older people, so, if you care for someone who fits into either of these categories, understanding what dysphagia is and how it can impact health is extremely important.
Dysphagia Pronunciation and Etymology
Dysphagia literally means 'disordered eating', and is pronounced as 'dis – fay – juh'. It is not the same as 'dysphasia', which is a completely unrelated term describing a difficulty producing and understanding spoken language [6].
When talking to a health professional or reading about dysphagia, you might come across two different 'types' of dysphagia: oropharyngeal dysphagia and oesophageal dysphagia. The two different terms actually refer to the part of the swallowing process where dysphagia occurs.
'Oropharyngeal' dysphagia is a portmanteau of 'oral' and 'pharyngeal', and refers to difficulty swallowing when the food/liquid is in your mouth or throat [3]. 'Oesophageal' dysphagia refers to difficulty swallowing when the food/liquid is in your oesophagus (food pipe) [7].
Both oropharyngeal dysphagia and oesophageal dysphagia can have different causes and risk factors, which we'll talk about later, and it's possible to have both conditions at the same time.
Dysphagia Versus Odynophagia
Two other commonly confused terms are 'dysphagia' and 'odynophagia'. Dysphagia refers to difficulty swallowing, while odynophagia is the occurrence of pain while swallowing [8].
Odynophagia can be acute (such as a sore throat when sick) or chronic (which may be indicative of other conditions like HIV AIDS, fungal infections or cancer) [9].
Dysphagia and odynophagia are not mutually exclusive, and you or a loved one may experience pain and difficulty swallowing at the same time.
Risk Factors for Dysphagia
Although dysphagia can affect anyone, there are three groups who are at particular risk of developing dysphagia: patients already suffering from another health condition, elderly individuals and infants.
People suffering from neurological conditions or conditions affecting the head/neck area are most at risk for dysphagia. If a loved one or patient is undergoing spinal surgery, receiving cancer treatment, recovering from a stroke or living with a condition like Parkinson's disease, make sure you screen them for dysphagia.
Elderly individuals (those aged 65+ years) are also a demographic commonly affected by dysphagia. In addition to age-related physiological changes like sarcopenia that can make swallowing more difficult, elderly people are also more likely to suffer from other health conditions that can cause dysphagia [10]. Estimates suggest that 15–30% of Australia's older population is affected by dysphagia, a number that rises to 50% in nursing homes [11].
Young children, from newborns to toddlers, can also be diagnosed with dysphagia. Research indicates that roughly 1% of all children have swallowing difficulties that are not behaviour-based, although this number rises to 26% among prematurely born infants [12, 13]. Children with dysphagia may be orally uncoordinated, struggle to bite or suck, have difficulty breathing/swallowing/sucking, and may choke or aspirate [12]. Children with cleft palates may also be at increased risk. If your child consistently struggles to feed or drink properly, consult a trained physician about the possibility of paediatric dysphagia and ask for a referral to a speech pathologist.
In addition to the demographics we just talked about, recent research has also found that users of orally ingested drugs may also be at risk for dysphagia [14].
Signs and Symptoms of Dysphagia
People with dysphagia may show a variety of different symptoms depending on the severity and cause of their dysphagia. The most commonly described sign of dysphagia is a feeling of food or drink getting stuck in your throat and chest – this may be uncomfortable, but not necessarily painful.
Other symptoms include:
Choking, gagging, or coughing when eating and drinking
Food and drink 'going down the wrong way'
Food or acid backing up in your throat, mouth or nose
Having difficulty chewing your food
Having difficulty swallowing your tablets
Drooling and/or too much saliva in your mouth
Regurgitating your food
General difficulty swallowing or controlling food/drink in your mouth
Food becomes caught between your gums and lips, and you have trouble clearing it
Food becomes stuck to the roof or side of your mouth and under your tongue
Dysphagia is a symptom of other health conditions – that is, it's caused by other, often more serious health complications, rather than developing on its own.
There are many different neurological and physical conditions that can result in the development of dysphagia – essentially, anything that affects how your mouth and neck work.
Neurological conditions such as Parkinson's disease, muscular dystrophy, stroke, dementia and multiple sclerosis can all contribute to dysphagia [15, 18, 19, 10]. For example, roughly 80% of Parkinson's patients develop dysphagia, which can lead "to malnutrition and aspiration pneumonia [a chest infection], […] a major cause of death in [Parkinson's disease]" [15].
Spine injuries, disorders and surgeries are also leading causes of dysphagia [16]. Because of the closeness of the cervical spine to nerves and muscles essential for proper swallowing, any damage can result in traumatised nerves, non-functional muscles or the development of osteophytes (bone spurs) [17]. For example, anterior cervical spine surgery "may cause direct or retraction trauma to the recurrent laryngeal nerve, superior laryngeal nerve, or
glossopharyngeal nerve, which [can] cause […] dysphagia" [17]. Normally, the dysphagia caused by spinal trauma is oropharyngeal dysphagia [17].
Cancer and cancer treatments also often result in dysphagia. Head and neck cancers, along with treatments like radiotherapy and chemoradiation, can produce chronic dysphagia either through physical blockages (tumours pressing against nerves or swallowing muscles) or through radiation injuries like inflammation, cell depletion and fibrosis [20].
Other causes of dysphagia include:
Oesophageal rings/strictures
Gastroesophageal reflux disease (GERD)
Achalasia
Xerostomia (dry mouth)
Any conditions which damage or inflame the oesophagus or mouth.
Dysphagia can impact health in a number of different ways, ranging from psychological effects like social anxiety to life-threatening physical problems like choking or aspiration pneumonia.
Dysphagia is a condition that attacks one of the cornerstones of human interactivity – the shared meal. Whether it's a coffee catchup with a friend, a family dinner or a night out with your partner, consuming food and drink with people we care about is an essential part of our day-to-day social functioning.
Unfortunately, dysphagia makes social eating and drinking both difficult and uncomfortable. People with mild dysphagia may struggle to swallow properly and feel uncomfortable; for those with severe dysphagia, mealtimes can be hazardous and potentially life-threatening.
This is particularly problematic for older people, who may already have reduced social interaction and diminished psychological health. One study found that 86% of German, French, Spanish and British aged care residents with dysphagia thought mealtimes should be enjoyable, but only 45% considered them to be so [21]. Up to 36% of these residents avoided eating with others because of their condition, with 40% of that number suffering anxiety or panic attacks during meals [21].
This involuntary social isolation can often lead to lowered food intake, depression, emotional issues and overall reduced quality of life. One large study of Japanese aged care residents, for example, found an independent association between self-reported swallowing dysfunction and psychological frailty/depressive symptoms [22].
There are two main physical dangers associated with dysphagia: the inability to eat and drink enough, and the possibility of aspiration (inhaling food, drink, or saliva).
Because dysphagia makes eating and drinking both more difficult and less enjoyable, it has been associated with malnutrition and dehydration in hospital patients (like those who have recently suffered a stroke) and in elderly individuals [10, 23, 24].
One 2010 review of dysphagia in hospital patients found that an estimated 24.6% of hospital patients were at risk of dysphagia, with many cases failing to be diagnosed by hospital staff [23]. A different review found that patients with oropharyngeal dysphagia cost hospitals 40.36% more and stayed for four days longer than other patients [25].
Dehydration is also a severe danger for elderly people with dysphagia [26]. Studies have shown that up to 60% of aged care residents may suffer from dehydration, which can be made worse by swallowing conditions like dysphagia, certain types of medication, other medical conditions and cognitive or linguistic impairments [26].
People with dysphagia are at an increased risk of aspirating food and fluid particles. Because aspiration is a leading cause of aspiration pneumonia, which can be problematic for people with weakened immune systems, dysphagia-induced aspiration can spark a vicious cycle of ill health often resulting in death. Aspiration pneumonia occurs in 40–50% of stroke patients with dysphagia [27].
Diagnosis Process for Dysphagia
Because dysphagia is an internal condition without obvious signs and symptoms, diagnosing it can be difficult.
Often, the diagnosis process starts when a loved one like you notices a difference in eating patterns – the person you're caring for might be eating very slowly or struggling to eat normally, and might be doing things like coughing while eating, spitting up/regurgitating food, drooling, or simply eating less than normal.
In clinical settings like hospitals and aged care homes, diagnoses normally occur after initial screenings identify patients who are likely to be at risk of dysphagia.
Once either you or a carer have identified a risk of dysphagia, a health professional like a speech pathologist should conduct a test with proper screening tools [3]. There are many different bedside screening tools, and the practitioner will select one that is appropriate for your loved one's unique situation [28].
Once a screening assessment has produced a diagnosis of dysphagia, a clinical swallowing examination (sometimes known as a 'CSE') should be conducted "to identify aspiration risk and the possible site, severity and prognosis of the swallowing problem" [3, 29]. This will help your speech pathologist determine the correct course of management and treatment.
As part of a CSE, your loved one should be asked to provide their medical history and undergo a medical examination, oral examination and food intake examination [3]. These may be conducted by different specialists including speech pathologists, dietitians and clinicians specialising in gastroenterology and neurology.
Once a successful diagnosis is complete, the health professionals involved will be able to recommend management and treatment options.
Management and Treatment of Dysphagia
Dysphagia is a complex condition that can lead to severe health complications, so doctors, nurses, carers, speech pathologists and dietitians may all be involved with its management and treatment.
Often, a compensatory management approach will be recommended for your loved one's dysphagia. This involves treatments which 'compensate' for the inability to swallow properly, like better swallowing techniques, improved posture while eating and drinking, modified diets, environmental changes, and prosthetics [29].
A rehabilitative management approach may also be useful if the dysphagia is likely to be chronic. This can include speech pathology exercises designed to improve function in the oral and pharyngeal stages of swallowing [29].
Some cases of severe dysphagia can benefit from non-oral feeding. Although unpleasant, non-oral feeding can be of benefit to dysphagic people who are at severe risk of choking, aspiration, dehydration and/or malnutrition [29].
Texture-Modified Diets and Soft Diets
One of the most common compensatory approaches is diet modification. Dysphagia can make swallowing regular foods extremely difficult, so, by modifying solid foods into softer, easier-to-swallow forms, your loved one can still enjoy tasty, nutritious meals.
The International Dysphagia Diet Standardisation Initiative (IDDSI) framework for diet modification is one you might hear talked about by your loved one's medical professionals. The IDDSI framework consists of eight levels, with drinks ranging from levels 0–4 and food from levels 3–7.
Drink levels are: thin (0), slightly thick (1), mildly thick (2), moderately thick (3) and extremely thick (4).
Food levels are: liquidised (3), pureed (4), minced and moist (5), soft and bite-sized (6) and regular/easy-to-chew (7).
Depending on the severity and nature of your loved one's dysphagia, your health professional might recommend changing the texture of their diet. You might need to do one or more of the following:
Dysphagia cups are modified drinking vessels or containers which make drinking easier for people with dysphagia. They can include design modifications to do things like minimise neck extension and reduce liquid leakage from the lips.
The Flavour Creations Dysphagia Cup, one of Australia's most well-known dysphagia cups, took seven years of research and over $6 million to develop. The design includes benefits like external ribbing to improve grip, an ergonomic rim to stop leakage, an angled cup shape to reduce neck extension and an easy-peel lid.
To help people who struggle to hold cups, we've also created our Dysphagia Cup Holder, which is shaped to make drinking even easier than ever before. You can purchase our Dysphagia Ready-to-Drink Beverages in three different thicknesses (mildly thick, moderately thick and extremely thick, or levels 2, 3 and 4 on the IDDSI framework) to accommodate your loved one's unique needs.     
If your loved one is still living at home – rather than in a hospital or aged care home – it may be difficult to check whether they're at risk of dysphagia. To help screen them for dysphagia, use the EAT-10 tool, which is an easy way to see whether you should consult a health professional for a referral.
To use the EAT-10 tool, ask your loved one these questions, and get them to select a score of 0–4 for each question [30].
To what extent do you experience the following problems? Circle the most appropriate response for each statement.
| | Severity of Problem (circle one score per problem) |
| --- | --- |
| My swallowing problem has caused me to lose weight. | |
| My swallowing problem interferes with my ability to go out for meals. | |
| Swallowing liquids takes extra effort. | |
| Swallowing solids takes extra effort. | |
| Swallowing pills takes extra effort. | |
| | |
| The pleasure of my eating is affected by my swallowing. | |
| When I swallow, food sticks in my throat. | |
| | |
| | |
Total Score: ______ / 40
If your loved one receives a score of 3 or higher, they may have dysphagia, and should visit a qualified health practitioner for a referral and assessment [31]. To get a direct assessment from a qualified speech pathologist, visit speechpathologyaustralia.org.au to find a speech pathologist near you.
Dysphagia is a condition that can impact a person's health and quality-of-life, but there are ways to manage and treat it.
The most important step is actually recognising your loved one might have dysphagia. With medical knowledge and early intervention, the impacts of dysphagia can be mitigated, so identifying risk factors and symptoms is essential.
If you have a loved one who is suffering from a neurological condition, is currently hospitalised, or is above the age of 65, screen for dysphagia using the EAT-10 tool. If they receive a score of 3 or higher, book an appointment with a medical professional or speech pathologist.
Medical information on FlavourCreations.com.au is merely information and is not the advice of a medical practitioner. This information is general advice and was accurate at the time of publication. For more information about nutrition and your individual needs, see your GP, a speech pathologist, or an Accredited Practising Dietitian.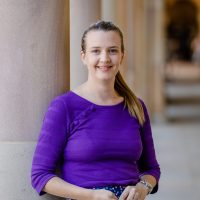 Dr Rebecca Nund
BSpPath (Hons), GCHEd, PhD CPSP
Dr Rebecca Nund does not work for or own shares in Flavour Creations, has received no funding or financial gain from reviewing this article, and has disclosed no relevant affiliations beyond their academic appointment.
[1] Australian and New Zealand Society for Geriatric Medicine. Position Statement – Dysphagia and aspiration in older people*. (2011) Australasian Journal on Ageing. 30(2), 98–103. DOI: 10.1111/j.1741-6612.2011.00537.x  
[2] Triggs, J. & Pandolfino, J. (2019) Recent advances in dysphagia management. F1000 Research. 8. DOI: 10.12688/f1000research.18900.1 
[3] Rommel, N. & Hamdy, S. (2015) Oropharyngeal dysphagia: manifestations and diagnosis. Nature Reviews Gastroenterology & Hepatology. 13(1), 49–59. DOI: 10.1038/nrgastro.2015.199  
[4] Gallegos, C., Brito-de la Fuente, E., Clavé, P., Costa, A. & Assegehegn, G. (2017) Nutritional Aspects of Dysphagia Management. Advances in Food and Nutrition Research. 81, 271–318. DOI: 10.1016/bs.afnr.2016.11.008  
[5] Speech Pathology Australia (2021, February 8) Swallowing Awareness Day. Speech Pathology Australia.  Retrieved from: https://www.speechpathologyaustralia.org.au/SPAweb/whats_on/Swallowing_Awareness_Day/SPAweb/What_s_On/SAD/Swallowing_Awareness_Day.aspx  
[6] Minnis, S. & Vandergriendt, C. (2018, September 18) What is Dysphasia? Healthline. Retrieved from: https://www.healthline.com/health/dysphasia  
[7] Kruger, D. (2014) Assessing esophageal dysphagia. Journal of the American Academy of Physician Assistants. 27(5), 23–30. DOI: 10.1097/01.jaa.0000446227.85554.fb  
[8] Minnis, S. & Cherney, K. (2018, September 2) Everything You Should Know About Odynophagia. Healthline. Retrieved from: https://www.healthline.com/health/odynophagia  
[9] Raufman JP. (1988) Odynophagia/dysphagia in AIDS. Gastroenterology Clinics of North America. 17(3), 599–614. PMID: 3049365. 
[10] Crary, M., Sura, L., Madhavan, A. & Carnaby-Mann, G. (2012) Dysphagia in the elderly: management and nutritional considerations. Clinical Interventions in Aging. 287–297. DOI: 10.2147/cia.s23404  
[11] Speech Pathology Australia (2021, February 18) Swallowing Awareness Day. Speech Pathology Australia.  Retrieved from: https://www.speechpathologyaustralia.org.au/SPAweb/whats_on/Swallowing_Awareness_Day/SPAweb/What_s_On/SAD/Swallowing_Awareness_Day.aspx  
[12] Dodrill, P. & Gosa, M. M. (2015). Pediatric Dysphagia: Physiology, Assessment, and Management. Annals of Nutrition and Metabolism. 66(5), 24–31. DOI: 10.1159/000381372  
[13] Jadcherla, S. (2016). Dysphagia in the high-risk infant: potential factors and mechanisms. The American Journal of Clinical Nutrition. 103(2), 622S–628S. DOI: 10.3945/ajcn.115.110106  
[14] Mayer Silva da Cunha, K., de Campos Moreira, T., Taminini de Almeida, S., Tannhauser Barros, H. M. & Ferigolo, M. (2019) Symptoms Suggestive of Dysphagia and the Quality of Life in Cocaine and/or Crack Users. Dysphagia. DOI: 10.1007/s00455-019-10013-0  
[15] Suttrup, I., & Warnecke, T. (2015) Dysphagia in Parkinson's Disease. Dysphagia. 31(1), 24–32. DOI: 10.1007/s00455-015-9671-9  
[16] Joaquim, A. F., Murar, J., Savage, J. W. & Patel, A. A. (2014) Dysphagia after anterior cervical spine surgery: a systematic review of potential preventative measures. The Spine Journal. 14(9), 2246–2260. DOI: 10.1016/j.spinee.2014.03.030  
[17] Papadopoulou, S., Exarchakos, G., Beris, A. & Ploumis, A. (2013) Dysphagia Associated with Cervical Spine and Postural Disorders. Dysphagia. 28(4), 469–480. DOI: 10.1007/s00455-013-9484-7  
[18] Côté, C., Gagnon, C., Youssof, S., Kurtz, N. & Brais, B. (2018) The need for a disease-specific patient-reported outcome measure of dysphagia in oculopharyngeal muscular dystrophy. Muscle & Nerve. 445–450. DOI: 10.1002/mus.26405  
[19] D'Amico, E., Zanghì, A., Serra, A., Murabito, P., Zappia, M., Patti, F. & Cocuzza, S. (2018). Management of dysphagia in multiple sclerosis: current best practice. Expert Review of Gastroenterology & Hepatology. 1–8. DOI: 10.1080/17474124.2019.1544890  
[20] King, S. N., Dunlap, N. E., Tennant, P. A., & Pitts, T. (2016). Pathophysiology of Radiation-Induced Dysphagia in Head and Neck Cancer. Dysphagia, 31(3), 339–351. doi:10.1007/s00455-016-9710-1  
[21] Ekberg, O., Hamdy, S., Woisard, V., Wuttge-Hannig, A. & Ortega, P. (2002) Social and Psychological Burden of Dysphagia: Its Impact on Diagnosis and Treatment. Dysphagia. 17(2), 139–146. DOI: 10.1007/s00455-001-0113-5  
[22] Nishida, T., Yamabe, K. & Honda, S. (2019) Dysphagia is associated with oral, physical, cognitive and psychological frailty in Japanese community‐dwelling elderly persons. Gerodontology. 1–6. DOI: 10.1111/ger.12455  
[23] Altman, K. W., Yu, G.-P. & Schaefer, S. D. (2010) Consequence of Dysphagia in the Hospitalized Patient. Archives of Otolaryngology–Head & Neck Surgery. 136(8), 784. DOI: 10.1001/archoto.2010.129  
[24] Reber, E., Gomes, F., Dähn, I. A., Vasiloglou, M. F. & Stanga, Z. (2019) Management of Dehydration in Patients Suffering Swallowing Difficulties. Journal of Clinical Medicine. 8(11), 1923. DOI: 10.3390/jcm8111923  
[25] Attrill, S., White, S., Murray, J., Hammond, S. & Doeltgen, S. (2018) Impact of oropharyngeal dysphagia on healthcare cost and length of stay in hospital: a systematic review. BMC Health Services Research. 18(594). DOI: 10.1186/s12913-018-3376-3 
[26] Stanga, Z., Baldinger, S. H. & Clavé, P. (2011) Dehydration in Dysphagia. Medical Radiology. 601–610. DOI: 10.1007/174_2011_349  
[27] Marik, P. E. & Kaplan, D. (2003). Aspiration Pneumonia and Dysphagia in the Elderly. Chest. 124(1), 328–336. DOI: 10.1378/chest.124.1.328  
[28] Kertscher, B., Speyer, R., Palmieri, M. & Plant, C. (2013) Bedside Screening to Detect Oropharyngeal Dysphagia in Patients with Neurological Disorders: An Updated Systematic Review. Dysphagia. 29(2), 204–212. DOI: 10.1007/s00455-013-9490-9  
[29] Lancaster, J. (2015) Dysphagia: its nature, assessment and management. British Journal of Community Nursing. 20(Sup6a), S28–S32. DOI: 10.12968/bjcn.2015.20.sup6a.s28  
[30] Belafsky, P. C., Mouadeb, D. A., Rees, C. J., Pryor, J. C., Postma, G. N., Allen, J. & Leonard, R. J. (2008) Validity and Reliability of the Eating Assessment Tool (EAT-10). Annals of Otology, Rhinology & Laryngology. 117(12), 919–924. DOI: 10.1177/000348940811701210  
[31] Wilmskoetter, J., Bonilha, H., Hong, I., Hazelwood, J., Martin-Harris, B. & Velozo, C. (2017) Construct Validity of the Eating Assessment Tool. Disability and Rehabilitation. 41(5), 549–559. DOI: 10.1080/09638288.2017.1398787