Being diagnosed with dysphagia (swallowing difficulties) can be frightening. Enjoying a full, meaningful life when you have trouble eating, drinking and swallowing might seem unrealistic, but many Australians can and do live successfully with dysphagia.
In this article, we'll examine what living successfully actually looks like, and provide tips for three of life's most important areas: health, socialisation, and relationships.
What does 'living successfully' mean?
In the English language, there are few words as subjective as 'successful'.
Ask one person what success looks like, and they'll point at a Lamborghini and a multi-million-dollar mansion. Talk to someone else, and they'll tell you that raising your kids right is success, or that being successful means living a long, healthy life.
Everyone has different ambitions and different measures of happiness, which makes the idea of 'living successfully' difficult to define. Theoretically, it's the practice of enacting or moving towards success in your everyday life – but what does that look like practically?
Most people agree that living successfully includes:
Regularly experiencing short-term happiness
Feeling long-term life satisfaction
Being physically and psychologically healthy
Being emotionally and spiritually fulfilled
Having the energy to accomplish goals, whatever they might be
It's a holistic approach to success, encompassing each facet of life.
Chronic health conditions like dysphagia impact every aspect of successful living, which can make it difficult for people with dysphagia to feel truly fulfilled. That's why finding management solutions that facilitate success is so important – no health condition should have the power to dictate how you experience life.
Successful Health with Dysphagia
Being 'healthy' while living with a chronic health condition might seem unobtainable, but a healthy lifestyle doesn't mean being perfect – it simply means setting your body up for success through health-conscious choices.
In the context of dysphagia, that looks like:
Eating a balanced diet with the right amount of nutrients
Staying properly hydrated
Engaging in appropriate exercise
Proper oral care
Taking steps to understand and manage your dysphagia
Each of these steps will help prevent complications like malnutrition and dehydration, enabling you to keep living life the way you want.
The first thing you should do is visit a GP. If you're referred to a speech pathologist by your GP under the Chronic Disease Management Plan, you may be eligible for Medicare rebates. Speech pathologists are specialists in dysphagia management, and can help you formulate a holistic management plan.
Depending on the specifics of your dysphagia, a speech pathologist might recommend texture modified food and thickened fluids to help prevent malnutrition and dehydration.
They can also connect you to additional health services, like dietitians or occupational therapists.
To learn more about dysphagia and explore dysphagia nutritional solutions, visit our Dysphagia Hub.
To find a Certified Practising Speech Pathologist near you, visit Speech Pathology Australia.
Dysphagia can have serious impacts on how you socialise with friends, colleagues, and neighbours. Why? Because dysphagia affects how you eat and drink, both of which are foundational social activities.
Shared meals have two main benefits: building inter-community relationships (in the case of communal gatherings, such as barbecues or parties) and making and reinforcing friendship and family relationships [1]. Research has indicated that "people who eat socially are more likely to feel better about themselves and to have a wider social network capable of providing social and emotional support" [1].
Dysphagia can compromise both the ability to eat socially and the willingness, when able, to do so.
A 2013 study by Nund et al found that people who developed dysphagia after treatment for head and neck cancer felt their eating and drinking experiences had been compromised [2].
Some participants cited the inability of restaurants to understand or cater to their condition frustrating [2]. Unlike other diet-affective conditions like Coeliac disease, dysphagia-inclusive dining environments are still relatively rare, which can make social and professional outings difficult. As one study participant said, "we do have problems with restaurants, trying to explain to people my problem … most people don't understand" [2].
A 2018 study survey of head and neck cancer patients found that 67–73% of the dysphagic individuals surveyed "reported they chose to dine out less frequently, and social interactions were affected" [3].
If you have plans to visit a certain restaurant, call ahead of time to explain your dysphagia and arrange an appropriate solution. While not every restaurant or eatery will be able to accommodate you, most well-established venues should be able to.
For impromptu occasions – like when a friend or colleague invites you to grab a drink or a coffee – consider using thickeners like instant THICK. instant THICK is available in discreet liquid sachets that instantly thicken beverages like alcohol, coffee, tea and juice – simply open a sachet, pour it in, and stir.
Family gatherings, barbecues, or other communal events can also be difficult to navigate for people with dysphagia. Nund et al found that the participants in their study were unable to "share in meals at significant celebrations (e.g., Christmas) [which] separated them from those events" [2].
As one participant put it, "[at] Christmas the family was around and they had Christmas turkey … I was sitting on the lounge with my milkshake" [2].
Socialising successfully at larger events requires two key traits: confidence in yourself, and preparedness.
Drinking texture modified food or fluid while everyone else tucks into a shared meal might feel exclusionary, but it's important to realise that most of your friends and family won't feel that way – they're enjoying the experience of sitting, eating, and talking with you. Modified diets, like vegan, gluten-free, and dairy-free diets, are commonplace, and most people won't really notice or care what you're eating.
Being prepared in advance is also helpful. If you dislike eating in front of others, fill up beforehand, and drink thickened fluid at the gathering instead.
If you're confident about eating with your friends and family, but you're restricted to pureed food (IDDSI Level 4), consider bringing along Shaped cuisine. Shaped cuisine is pureed food that has been shaped into realistic or creative shapes with Shape It, a moulding powder designed for people with dysphagia. On a plate, Shaped food can look almost identical to real food, but, when consumed, collapses into its original texture, making it safe for people on IDDSI Level 4 diets to eat.
Eating Shaped cuisine means you'll still be enjoying the same food as everyone else, enhancing your shared meal experience. It also feels more dignified than ladling spoons of puree into your mouth, and can make eating faster and more pleasurable.
Successful Relationships with Dysphagia
Romantic relationships can be put under strain by dysphagia, especially when other health conditions are also present.
Managing a chronic health conditions can be financially, physically, and emotionally taxing – successfully being in a relationship adds another layer of complexity that many people (both individuals with conditions and their partners) find challenging. Relationship power
balances can shift, the financial burden often increases, and the household workload is often distributed unequally.
Consequently, people with conditions may feel like patients or burdens, and partners may become frustrated, stressed or depressed. This is especially common when partners are also caregivers [4].
Nund et al's research revealed sentiments like the following from people with dysphagia [2]:
"[My partner] doesn't eat as much either now … she skips dinner all the time now, 'cause she doesn't cook for one person."
"It created a fair bit of tension in our relationship … I'd lost my independence … I felt that reflected in the meal situation."
"This is a we thing not a me thing because it affects [my wife] … it affects [my wife] as much as it affects me … how I am."
Maintaining a successful relationship in the face of your dysphagia is not easy. It's likely that your perception of self has changed, and you may feel that your partner views you differently too. Navigating the challenges of chronic illness requires a unified approach from you and your partner if you want to live together successfully.
Research from Matire and Helgeson offers a useful insight into healthy and unhealthy relationships within the context of chronic disease [5].
Healthy Relationship Constructs

Unhealthy Relationship Constructs

Supportive Partner provides emotional or instrumental assistance with patient's illness management.

Uninvolved & Avoidant Partner is not involved in patient's illness management.

Autonomy Supportive Partner shows understanding for patient's preferences and provides choices for making health behaviour changes.

Overinvolved & Overprotective Partner provides an excessive amount of assistance that may or may not be viewed by the patient as unwanted or "too much," potentially undermining independence and personal efficacy.

Collaborative & Shared Responsibility Partner and patient work together to manage the illness.

Unsupportive Partner behaves in negative ways, such as being critical, rejecting, or inspiring conflict, that do not help to manage the illness and may undermine management.

Shared Illness Appraisal Person (either patient or partner) perceives the illness as a joint problem to be managed.

Communal Coping Partner and patient engage in shared illness appraisal and collaboration to manage the illness.
Examining your relationship and, if necessary, working with your partner to remodel it into a healthier construct is essential for relationship success with dysphagia.
The first and most important issue you need to address is communication. Good communication is a foundational aspect of successful relationships, and chronic conditions can severely impair your and your partner's ability to be open with each other [5, 6]. Clearly explain your feelings, and accept your partner's feelings when they explain them to you. Be direct and consistent with your communication – mixed messages are never helpful.
Stress can also impact your relationship [7]. Stress caused by dysphagia often manifests as a lack of knowledge about dysphagia management solutions, tension caused by meal preparation and changed diets, and concern about the financial costs of treatment and/or management [2].
Start by educating yourself about dysphagia and the options available to you. For free, general information, visit sources like our Dysphagia Hub; for specific health advice regarding your condition, visit your GP or seek a referral to a speech pathologist.
You should also consider, when possible, preparing your meals yourself – this can save your partner the task of preparing two separate meals, and can ease other stressors like perceived relationship imbalances.
Finally, explore avenues to minimise dysphagia-related expenditures. Even if you have no other health conditions, you may be eligible for the Chronic Disease Management Plan, a government subsidy scheme that may help reduce the cost of visiting speech pathologists and other healthcare specialists.
If your dysphagia reduces the number of hours you can work each work, or you have another chronic health condition or disability, you may be eligible for government support through the Disability Support Pension.
Sometimes, simple lifestyle and financial changes won't be enough to heal your relationship. If you think that's the case, visiting a psychologist or counsellor for relationship counselling may help you and your partner examine your emotions and your priorities. You can find out more about relationship counselling here.
Your ability to live successfully isn't impaired by a diagnosis of dysphagia. With a growing range of healthcare and nutritional solutions available, dysphagia management is becoming increasingly easier.
You aren't alone, either. Over a million other Australians live with dysphagia, and many of them are successfully navigating a life with chronic swallowing difficulties – read how Moreton Bay resident Gay Biggs manages her dysphagia here.
Your health, your friendships, and your romantic relationships are all in your hands. By implementing the tips in this article and finding out what works for your life, you can move forward and find ways to live successfully with dysphagia.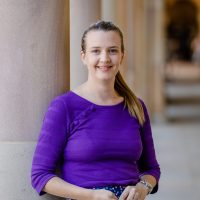 Dr Rebecca Nund
BSpPath (Hons), GCHEd, PhD CPSP
Dr Rebecca Nund does not work for or own shares in Flavour Creations, has received no funding or financial gain from reviewing this article, and has disclosed no relevant affiliations beyond their academic appointment.
[1] Dunbar, R. I. M. (2017) Breaking Bread: the Functions of Social Eating. Adaptive Human Behaviour and Psychology. 3, 198–211. DOI: 10.1007/s40750-017-0061-4
[2] Nund, R. L., Ward, E. C., Scarinci, N. A., Cartmill, B., Kuipers, P. & Porceddu, S. V. (2013) The lived experience of dysphagia following non-surgical treatment for head and neck cancer. International Journal of Speech-Language Pathology. 16(3), 282–289. DOI: 10.3109/17549507.2013.861869
[3] Chan, K. M. K., Chan, H. K. W., Siu, J. Y. L., Pu, D., Nund, R. L. & Ward, E. C. (2018) Impact of Head and Neck Cancer Treatment on Survivors' Mealtime Experience. The Laryngoscope. DOI: 10.1002/lary.27501
[4] Rees, J., O'Boyle, C. & MacDonagh, R. (2001) Quality of life: impact of chronic illness on the partner. Journal of the Royal Society of Medicine. 94(11), 563–566. DOI: 10.1177/014107680109401103
[5] Martire, L. M. & Helgeson, V. S. (2017) Close Relationships and the Management of Chronic Illness: Associations and Interventions. American Psychologist. 72(6), 601–612. DOI: 10.1037/amp0000066
[6] Estrada, M.-J. (2012) Romantic communication in intimate relationships: The romantic construal model. In M. A. Paludi (Ed.), The psychology of love (p. 125–139). Praeger/ABC-CLIO.
[7] Lau, K. K. H., Randall, A. K., Duran, N. D. & Tao, C. (2019) Examining the Effects of Couples' Real-Time Stress and Coping Processes on Interaction Quality: Language Use as a Mediator. Frontiers in Psychology. 9(2598). DOI: 10.3389/fpsyg.2018.02598